Topic: Consciousness | Posted:October 23, 2013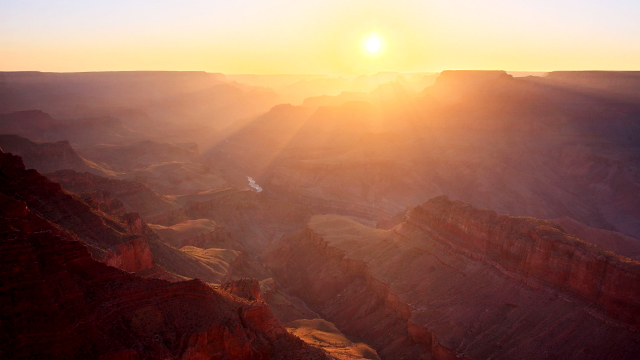 This week's portion, Chayei Sarah, begins, Vayihyu Chayei Sarah, mea shana, veesrim shana, vesheva shanim, shenei Chayei Sarah, "the days of Sarah were the years of her life, a hundred year, and twenty year, and seven years. These were the years of the life of Sarah." The Midrash says it is not a coincidence that the beginning of this week's portion which speaks of the death of Sarah comes right after the end of last week's portion which discusses the birth of Rebecca; the Midrash makes a connection between the birth of Rebecca, who was going to be the wife of Isaac, and the death of Sarah, the mother of Isaac and the wife of Abraham. So to begin this understanding, the Midrash quotes a verse from Kohelet (Ecclesiastes), which says, "The sun rises and the sun sets."
The Midrash says that there is a secret in this verse: Whenever a great soul is leaving this world, which corresponds to the setting of the sun, there always must be at the same time the rising of another sun, which means a soul that is as great as the one that's leaving, and so it is with Sarah and Rebecca. There never is the leaving of a great soul without there being in this world the awakening or the revelation of a corresponding great soul that exists.
For example, on the day that Rav Akiva passed away, the great sage Rav Yehuda Nassi was born, and then the day that Rav Yehuda Nassi passed away was the same day that Rav Aba, another great sage and soul was born into this world. When the sages saw the passing of Rav Yehuda Nassi and the birth of Rav Aba they said, "The sun of Rav Yehuda is setting, the sun of Rav Aba is rising," just as they had said, "The sun of Rav Akiva is setting, the sun of Rav Yehuda Nassi is rising."
There is an even deeper understanding here, based on one of the simplest teachings of Rav Ashlag, and that is that there can never be a lack when it comes to spiritual matters. When a person invests energy in a project, but that project doesn't manifest as he or she would desire it to, the Light and energy that was invested can't go to waste; it has to go somewhere else. But if a person does not have the consciousness that energy can never dissipate, that Light can never disappear, then he might not merit at that time to receive it. So although it's true that Light and energy invested never get lost, if you do not have that consciousness, you don't necessarily merit the immediate receiving of that Light.
When you have this clarity and live with this consciousness all the time, then you can never be disappointed. You can never be upset. So, you invested time or energy on this person, or in this thing? Now, it's ok if it doesn't go the way you desired. Because you have certainty that energy is there forever, and you know that whether or not it manifested exactly as you wanted it to is not as important as the fact that that Light and energy is now going to follow you.
Sarah and Abraham did many things in their lives. Some of them bore long term fruits, some of them, one would say objectively, failed. They had thousands and thousands of students, and not many of those students stayed with them until the end. But, how did Sarah view it? Did Sarah think that the Light and energy that she invested in all those students had gone to waste? No. Sarah had her years, her life, her energy with her. She knew that every piece of energy that she invested from the moment that she began her spiritual work in this world until the moment she left it was with her always. If a person or situation did not manifest the way she desired for it to manifest was very secondary to her, it was not important, because she knew that Light was hers, that energy was hers, she revealed it. And therefore, she owned all of her years.
If your consciousness is - as so many of ours is - that of, "I just wasted a year, all that energy that I invested in a person or in a project has been wasted," then you don't own that year anymore. That year is completely lost. If you're 35 years old, for example, you're now only 34 years old. You only have 34 years of your life now because you lost that year, but when Sarah left this world, it says she had all of her years, because she knew there was never one second of her life that was wasted. She knew that Light does not dissipate and energy never goes away.
So, the question is: How do you live your life, with what consciousness? Do you think that anything you do of a positive nature dissipates, disappears? If so, then it does. But if you know that the Light and energy that you manifest never dissipates, then you are never disappointed, you are never upset about things not going exactly as you wanted them to, because all your energy is revealing and manifesting the Light of the Creator in this world in one way, shape, or form; whether it manifested exactly as you desire or not is secondary because that energy is yours forever.
Our job in this world is to do what we can to manifest the Light of the Creator, to help, assist, share, in whatever ways we can. And if we manifest energy, if we awaken Light, if we're given wisdom, if we're given something we share, then that Light and energy is ours forever. You know it will manifest somewhere, but you don't really care where, as long as you're clear that that Light is with you.
Sarah lived all of the days of her life. And beginning to live our lives both understanding and having this consciousness is one of the gifts that we can receive on this Shabbat.